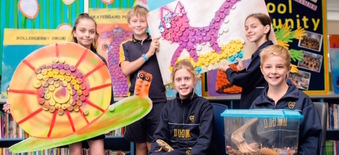 Artists in Residence
Adding colour, life and beauty through Community Arts
At IHM we encourage expression through the arts with the help of artists with talents, skills and expertise to share with the children.
We love being involved in community projects. Whether it's beautifying the neighbourhood with paintings and sculptures, connecting with storytellers or cleaning up the parks, connecting with the arts and community is important to us.
The concept of the neighbourhood art is to celebrate local community identity, and the values we have as a school and to let traffic know to slow down whilst travelling through our streets.
As you drive, walk or cycle near our school you will notice road paintings at intersections, a beautiful rainbow on our fence and most recently animal creature art, including an iron lizard sculpture at the corner of Drayton and Torrens Road.
We are very proud of these works and the joint collaboration involved with the local community in making them happen.
Our students are proud to have worked with the following community groups and artists:
City of Charles Sturt, Renewal SA, Hindmarsh Greening, artists Jacqui Hunter, Paul Anderson, Rosina Possingham, Helen Crawford and Will Powrie to add life, colour and beauty to the neighbourhood.
In 2023, students will be working with Christopher Asimos who will be a Performing Artist in Residence, completing a 6-week Drama Workshop with students in all classes.
Christopher is a 2008 Honours graduate from Flinders Drama Centre. He has worked extensively on stage, television and film in Australia and overseas. Chris is a resident performer for the NTC (National Theatre for Children) and has toured hundreds of schools across Australia.
Chris currently works as the Acting School-Coordinator and Assistant Agent at Actors Ink agency and a member of the academic staff for the Elder Conservation of Music full-time musical theatre course.