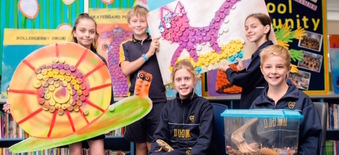 Artists in Residence
Adding colour, life and beauty through Community Arts
At IHM we encourage expression through the arts with the help of artists with talents, skills and expertise to share with the children.
We love being involved in community arts projects. Whether it's beautifying the neighbourhood with paintings and sculptures, connecting with story tellers or cleaning up the parks, connecting with the arts and community is important to us.
The concept of the neighbourhood art is to celebrate local community identity, the values we have as a school and to let traffic know to slow down whilst travelling through our streets.
As you drive, walk or cycle near our school you will notice road paintings at intersections, a beautiful rainbow on our fence and most recently animal creature art, including an iron lizard sculpture at the corner of Drayton and Torrens Road.
We are very proud of these works and the joint collaboration involved with the local community in making them happen.
Our students are proud to have worked with the following community groups and artists:
City of Charles Sturt, Renewal SA, Hindmarsh Greening, artists Jacqui Hunter, Paul Anderson, Rosina Possingham, Helen Crawford and Will Powrie to add life, colour and beauty to the neighbourhood