Building an inspiring learning community where every child will flourish, today and in the future.
We are committed to ensuring:
High Quality Learning
Wellbeing and
A Heart Spirituality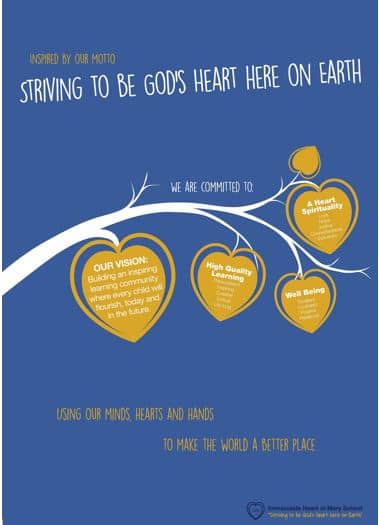 Using our hands, hearts and minds to make the world a better place.
We are inspired by the story and charism of the Missionaries of the Sacred Heart (MSC). In 1951 the school began under the auspices of the Daughters of Our Lady of the Sacred Heart (OLSH) and we have carried the Heart Spirituality as a central part of our Catholic Identity since then.
We have five pillars which enliven our heart spirituality and help us make sense of our own and other faiths in a contemporary and meaningful way. They are:
Love
Hope
Connectedness
Inclusivity
Justice.